This website is closed
NOW BOOKING 2008
60ft Charter Boat Tampa VII
Now sailing from floating boat dock located at foot of bridge
Belmar Marina RT 35 in Belmar, New Jersey
Saltwater Sport Fishing Home Page
DISCOUNT HOLIDAY WEEKEND CHARTER RATES
Check out TAMPA VII WEEKLY FISHING REPORT posted by Capt Gene
PRIME DATE AVAILABLE SATURDAY & SUNDAY CALL NOW
FOR ADDITIONAL CHARTER INFO FILL OUT OUR
Mailing List

FORM

We will be excepting payment for deposit thur www.paypal.com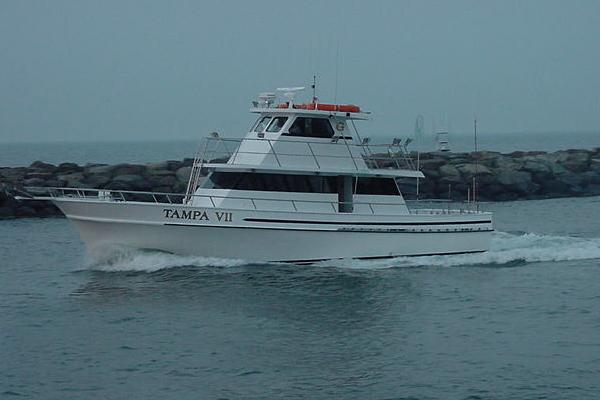 USCG Licensed to carry up to 49 passengers
"Charter Boat Fishing at it's Best"
Capt 20yrs Experience ,Ladies Accommodations . Professional Mates
Speed ,Style, Total Comfort
"Voted # 1 Charter Boat by our past customers & Our repeat business proves it
Check out 50yrs of the Tampa History
NO HANDHELD GPS /LORAN ,METAL TACKLE BOXES & METAL COOLER PERMITTED ABOARD
The 2007 fishing season was great. Join Capt Gene Becker in making the 2008 season the BEST SEASON EVER!
For more information or to find out how to book the Tampa VII for your next private or corporate outing click on any of the links below or
Mailing List
Capt Genes only use to book trips please
*Corporate* Families* Clubs* Parties* Burial at Sea* Pleasure Cruises
General Information I 2008 Charter Rates I Captain's Corner
Boat History I Recent Photos I Directions I Links I 50yrs of Historic photos I Mailing List I NJ Regulations I NJ State Fishing Records I FAQ
Fishing Reports I FxForex I PA Casinos
Don't Forget to E mail us your web address to receive special trip offer's plus be put on our mailing list
Site Maintained & Fishing Repost Posted by Capt Gene Becker
Tampa Fishing Cruises
_
We are excepting credit cards
(Except if arrangements are make before with Capt Gene)